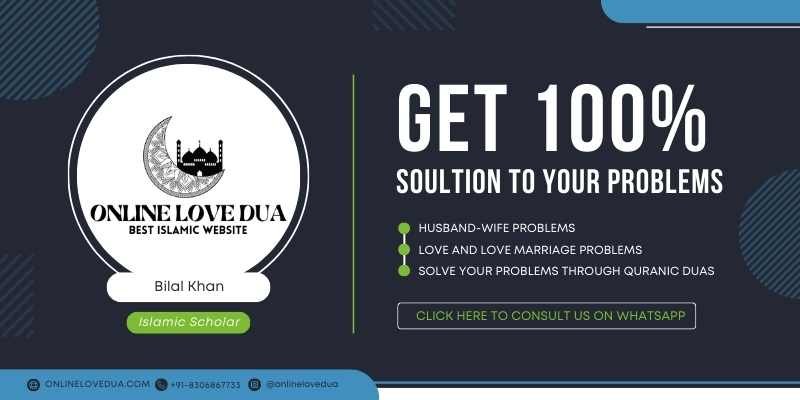 Isn't it's excellent to start your day with this beautiful dua? If you are a Muslim, then you should keep a habit to learn all the necessary and essential duas. Here in this post, we will share Morning dua with you. According to our format, we will share morning dua in two different languages. We hope this post will help you. If you also want us to teach you any specific dua, then you can ask a question by clicking the below link.
The Morning Dua is a prayer to Allah and the Prophet MoHamad. It is important to perform the dua on a regular basis because it aligns all aspects of your life. It empowers you to face challenges in any aspect of your life, from work to health. When recited daily, this dua will bring you peace and serenity. In addition, reciting the Morning-Dua will help you stay focused throughout your day.
Recite Daily When You Wake Up – Morning Dua
What surah should you read in the morning as a Morning Dua? If you are a Muslim, then you should never skip this morning dua. This dua will help you to get a happy starting to your day. We request you to please share our post. In the photo below, we are giving you Dua for the morning.
Asbahna Wa Asbahal Mulku Lillah

Morning dua in English

You can also read this morning dua if you find the upper one difficult. The below-mentioned dua is also the same power as the above one.
The "Morning Dua" is the most important dua of the day. It is a form of supplication that is said every day upon waking up. It is important to recite the dua before eating and drinking. The Morning Dua should also be said before you leave for work. It is an excellent way to start your day right. After you wake up, repeat the dua. It is the best way to stay in contact with Allah.
"Allahümme bike asbahna ve bike emseyna ve bike nehya ve bike nemutu ve ileykel Masiru."

Translation in English:- Oh God! We have entered the morning with your help, and we are reunited with your support, and we are raised with your help, and we die with your power, and to you is the destination.

Dua to read in morning
The Morning Dua is recited as soon as we wake up in the morning. It is a form of supplication for our daily needs and is essential for our well-being. It is not limited to Muslims. All people who are awake are encouraged to recite the Dua.
You can also check:-
Morning Dua in Roman English | Subha Padhne ki Dua
Bismillah Hir Rahman Nir Raheem
Is post mein ham apko Subh padhne ki dua ke bare mein bata rahe hain. Ager koi bhi banda subh uth kar ye dua rozana padhna shuru karega to Insha Allah uska pura din behad hi Achha guzrega. Sbuh padhne ki dua ke jariye ap apni jindagi ki badi se badi pareshani se nijat pa sakte hain.
Hamari post ko share jarur kijiye. Umeed karte hain ham aagge bhi apki isi tarah madad karte rahenge. Upper di hue tasweer mein hamne Morning dua or Subh padhne ki dua batayi hain jo ap dekh sakte hain.
Ager apko ye dua padhne mein mushkil lage to ap niche photo mein di hue dua bhi padh saktey hain. Dono dua mein koi khas farak nahi hai dono hi barabar asar dalengi apki jindagi mein.
सुबह पढ़ने की दुआ
असलम वालेकुम दोस्तों आज हम आपसे सुबह में पढ़ने की एक बेहद ही उम्दा दुआ शेयर करने जा रहे हैं. हम आपसे उम्मीद करेंगे कि आप रोजाना सुबह उठकर इस दुआ को जरूर पड़ेंगे. अगर कोई भी इंसान सुबह उठकर इस दुआ को पड़ेगा तो उसका पूरा दिन बहुत ही अच्छा गुजरने वाला है. जिंदगी में उसकी कामयाबी के रास्ते खुलेंगे और कामयाबी उसके कदम चूमेगी. हम यह दुआ आपको नीचे दी गई तस्वीर के जरिए शेयर करेंगे हम उम्मीद करते हैं कि आप हमारी पोस्ट को भी जरूर शेयर करेंगे.
अस्बह्ना व अस्बहल मुल्कु लिल्लाहि रब्बिल आलमीन। अल्लाहुम-म इन्नी अस्अलु-क ख़ै-र हाज़ल यौ मि फ़त्हहू व नस्रहू व नू-र हू व ब-र-क-तहू व हुदाहु व अअऊजुबि-क मिन शर्रि मा फ़ीहि व शर्रिमा बअद हूः – हिस्न अन अबिदाऊद
तर्जुमा – हम ने और सारे मुल्क ने अल्लाह ही के लिए सुबह की है जो पूरी दुनिया का रब है। ऐ अल्लाह! मैं तुझसे इस दिन की बेहतरी यानी इस दिन की फ़त्ह और मदद और इस दिन के नूर और बरकत और हिदायत का सवाल करता हूं और उन चीजों की बुराई से जो उसमें हैं और जो उसके बाद होंगी तेरी पनाह चाहता हूं|
या फिर आप सुबह के लिए यह दुआ भी पढ़ सकते हैं।
अल्लहुम-म बि-के अस्बह्ना व बि- क अम्सैना व बि-क नह् या व बि-क नमूतु व इलैकल मसीरूः

सुबह पढ़ने की दुआ
तर्जुमा – ऐ अल्लाह! तेरी कुदरत से हम सुबह के वक्त में दाखिल हुए और तेरी कुदरत से हम शाम के वक्त में दाखिल हुए और तेरी कुदरत से हम जीते हैं, मरते हैं और तेरी तरफ जाना है।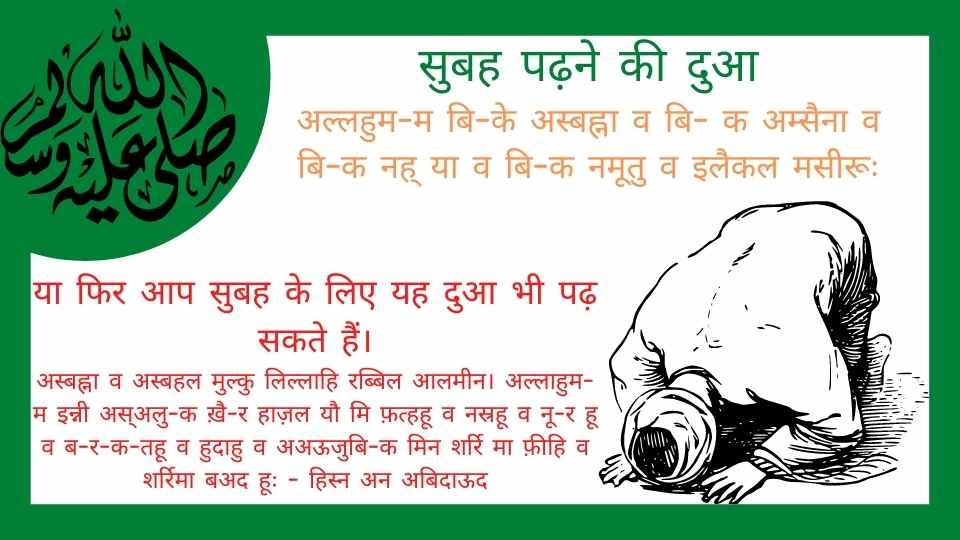 शुक्रिया.
Listen dua in audio.