Do you want to start reading a Dua or Wazifa? If yes, read all the points mentioned below carefully and follow them to get the desired results.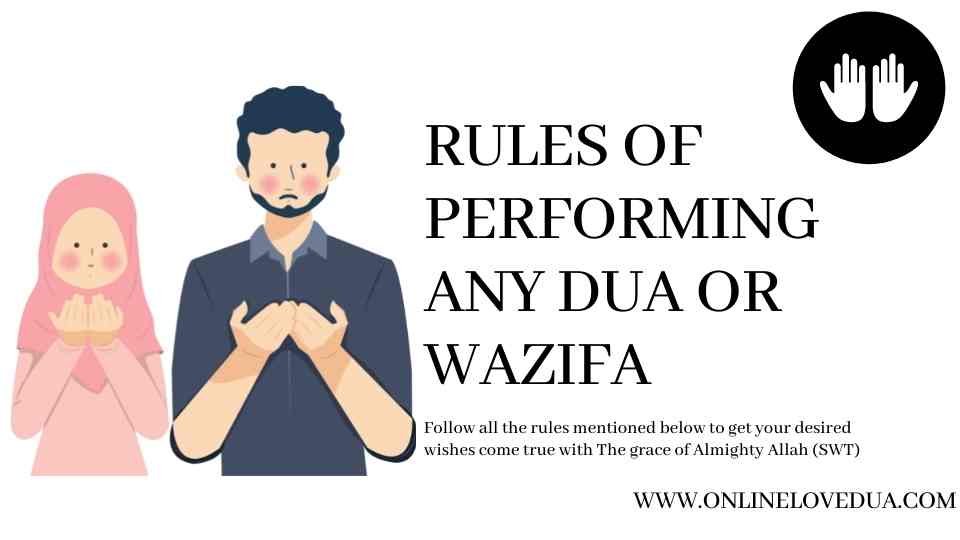 If you want any wazifa or dua to be effective, then keep these points in your mind –
Before starting any dua, you should be very sure to follow all the criteria mentioned here.

If you face any trouble performing a wazifa or dua, you can consult Bilal Bhai for free by clicking the chat on the WhatsApp button given below.

The reason you are doing a wazifa or dua should be correct and according to shariah.

Raise your hands, raising our hands in du'a is a Sunnah with such a beautiful meaning behind it!

Call upon Allah in a low voice. You should have complete faith in Almighty.

Don't rush into your du'a without first praising Allah and then sending prayers upon our beloved Prophet (saw).

When you have finished supplicating Allah, say 'Amin' to seal your du'a:

You must read the wording with the correct pronunciation.

 Five times salah is compulsory for any wazifa to work. Don't expect Allah to grant you your wish while you blatantly disobey his orders.

Your income must be halal. Even if there is one Pound/Dollar/Lira of haram income, no dua, wazifa, or ibadat will work.

The time and place must be the same every day. If there is an emergency and you have to go to another place, then take your musalla/prayer mat/ sajjade on which you read your wazifa.

You must be in wudu while you read a wazifa. Your clothes and body must be clean.

Men and women both must dress up in an Islamic way during the wazifa. I mean, at least during the duration of the wazifa.

While reading a wazifa, you cannot talk to anyone even by gestures, and no one should disturb you or divert your attention. That means keeping your mobile phones off.